Txotx openings in January 2019
The Txotx season is a tradition rooted in our land. The cider houses of the Basque Country open their doors to visitors who want to taste the new cider. Each territory organizes with great enthusiasm the opening of its season inviting both the press and the agents and neighbors of the area.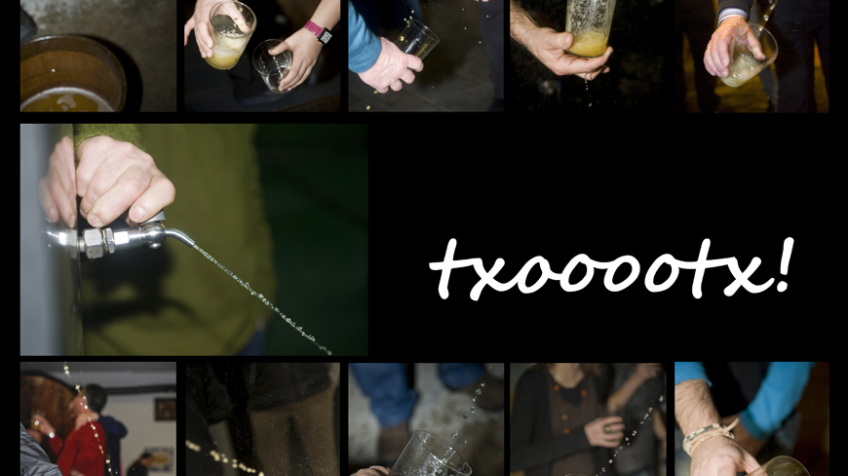 People are looking forward to this txotx season, to approach the cider houses and taste the new cider. However, that cider is a drink to enjoy all year round, both from the barrel and in the bottle.
These are the openings in each territory:
GIPUZKOA
·        Opening of Txotx in Astigarraga on January 16th organized by Sagardun.
·        Opening of Txotx in Hernani on January 18th at 7:00 p.m. in Tilos square (if it rains in Atsegindegi).
·        The opening of Tolosaldea will be on February 8th at the Tinglado, organized by the Sociedad Casino with the collaboration of the Council of Tolosa, Tolosa Gourmet and Tolosaldea cider houses.
·        Opening of Txotx de Goierri on January 17th at Oiharte cider house, organized by Goitur and Goierri cider houses.
BIZKAIA
·        Opening of Txotx in Bizkaia at Uxarte cider house(Zornotza) on January 23rd at 11:00 a.m., organized by the Bizkaia Cider Association.
ARABA
·        Opening of Txotx in Araba in Trebiñu on January 18th, organized by ASSE (Arabako Sagar eta Sagardogile Elkartea).
NAFARROA
·        Opening of Txotx of Navarra will be at Linddurenborda cider house in mid-January, organized by the Association of cider houses of Navarra.
And continuing with the illusion, here you have the opening dates of our associated cider houses, so that you can organize your visit:
| | |
| --- | --- |
| 1. ABURUZA | January 11 |
| 2. AGINAGA | January 5 |
| 3. ALBERRO | Fabruary 1 |
| 4. ALTUNA | January 21 |
| 5. AÑOTA | January 11 |
| 6. ARAETA | January 16 |
| 7. ARTOLA | January 15 |
| 8. ASTARBE | January 18 |
| 9. ASTIAZARAN | January 7 |
| 10. BALEIO | Closed |
| 11. BEREZIARTUA | January 18 |
| 12. CALONGE | January 11 |
| 13. ELORRABI | January 18 |
| 14. ELUTXETA | January 8 |
| 15. ETXEBERRIA | January 18 |
| 16. EULA | January 25 |
| 17. IPARRAGIRRE | January 26 |
| 18. IRIGOIEN-HERRERO | January 21 |
| 19. IZETA  | January 18 |
| 20. LARRARTE | January 18 |
| 21. LIZEAGA | January 18 |
| 22. MENDIZABAL | January |
| 23. OIANUME | January 7 |
| 24. OIARBIDE | January 18 |
| 25. OIHARTE | January 18 |
| 26. OLA | January 20 |
| 27. OLAGI | January |
| 28. ORDO-ZELAI | January 5 |
| 29. OTATZA | January 18 |
| 30. OTEGI | January 26 |
| 31. OTSUA-ENEA | January 18 |
| 32. PETRITEGI | January 12 |
| 33. REZOLA | January 7 |
| 34. RUFINO | February 5 |
| 35. SAIZAR | January |
| 36. SATXOTA | January 11 |
| 37. SETIEN | January 6 |
| 38. TXIMISTA | December 20 |
| 39. URBITARTE | January 11 |
| 40. URDAIRA | January 12 |
| 41. ZABALA | January 4 |
Relacionado por Etiquetas
Comentarios
Deje su comentario