Theme Settings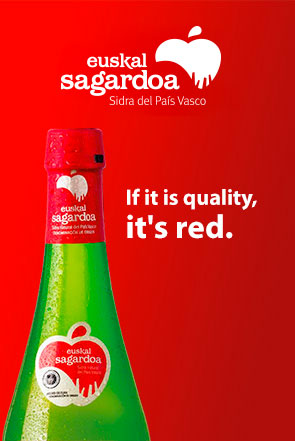 GUIDED TOUR WITH MEAL IN OLA CIDER HOUSE
Adults: from 51€
Children (14-17): 42€
Children (4-13): 22€
The Ola cider house is located in a 13th-century forge.
INCLUDES:
Guided cider tasting
Aperitif with 2 snacks
Traditional menu
DURATION:
Discover the world of Basque cider and the mining tradition of the Peñas de Aia Natural Park. The Ola cider house is located in the old ironwork of the 13th century and has an unimaginable natural environment within the Peñas de Aia Natural Park. Through the guided tour you will be able to visit the apple orchards and all the machinery to obtain our star product, the cider. All this, tasting different ciders, other home made products and finishing with a  traditional cider house menu.
We will meet at Ola cider house in Irun for a guided tour visiting the corners of the house and talk about the cider production and elaboration process. The details of each cider will be mentioned and the history of the family and the farm will be discussed. Finally, there will also be the opportunity to taste a traditional cider menu.
Cod omelet
Cod with tomato and peppers
Grilled T-bone steak
Cheese with quince jelly and walnuts
Bread / Cider / Coffee
Other menus ask in: info@sagardoa.eus
Schedule: All year round: from January to December: Tuesday, Thursday and Saturday: 12.45 pm.
Language: Basque, Spanish, English and French.
Other times and languages contact: info@sagardoa.eus
Cider House: Ola: Bo. Meaka, 102, 20304 Irun, Gipuzkoa.
-->
100% of the amount will be paid at the time of the booking.
Once the payment has been made, we will send you a voucher by email with all the details of the reservation that you can print or carry on your mobile as proof to carry out the activity.
Free cancellation up to 72 hours before the day of the reservation.
CUSTOMIZED SERVICES
Additional services: More services consult.
Schedule and meeting point: Requested by the client.
Rates: According to the number of people and services selected.
Budget and bookings: info@sagardoa.eus o 943 336 811.
Price per person
Adults
1 people

53 €

2 people

53 €

3 people

53 €

4 people

53 €

5 people

53 €

6 people

53 €

7 people

53 €

8 people

53 €

9 - 16 people

53 €

17 - 39 people

52 €

> 40 people

51 €
This is a former ironworks dating from the 13th century, one of the oldest in the Basque Country, renovated and converted into a cider brewery. It is located 5 km from Hondarribia and 4 km from the beaches of Hendaye, in the Aiako Harria nature park. It offers the chance to visit a valuable piece of historical-cultural heritage, including mines from Roman times and 17th-century furnaces.
Buy Experience