Theme Settings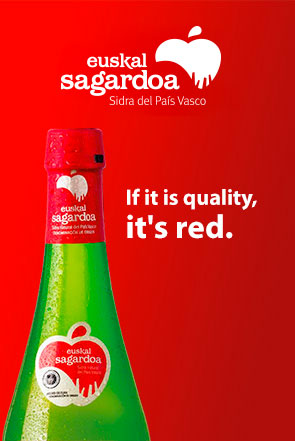 Guided tasting in Bereziartua
Adults: from 51€
Children (14-17): 42€
Children (4-13): 22€
In Astigarraga, the Bereziartua cider house is located on the slopes of Mount Santiagomendi.
INCLUDES:
Guided cider tasting
Aperitif with 2 snacks
Traditional menu
DURATION:
It is a temple of large wood barrels, a cider house where wood and steel merge. We will get to know the elaboration area walking through the enormous kupeltegi(cellar). These barrels will be the guardian of our journey. We will taste their cider by opening and closing the barrels in the traditional way, as they used to do in the past, and in narrower corridors we will go from door to door following the history path guarded by the huge barrels that will follow our steps. We will end with an extensive tasting: organic cider, Euskal Sagardoa cider, Gourmet cider, organic apple juice... There are a variety of natural ciders that are lovingly grown in this house. We will finish the visit with the excellent cider house menu: homemade pintxo, cod omelet, fried cod, T-bone 
100% of the amount will be paid at the time of the booking.
Once the payment has been made, we will send you a voucher by email with all the details of the reservation that you can print or carry on your mobile as proof to carry out the activity.
Free cancellation up to 72 hours before the day of the reservation.
CUSTOMIZED SERVICES
Additional services: More services consult.
Schedule and meeting point: Requested by the client.
Rates: According to the number of people and services selected.
Budget and bookings: info@sagardoa.eus o 943 336 811.
Price per person
Adults
1 people

53 €

2 people

53 €

3 people

53 €

4 people

53 €

5 people

53 €

6 people

53 €

7 people

53 €

8 people

53 €

9 - 16 people

53 €

17 - 39 people

52 €

> 40 people

51 €
This cider brewery, which was founded in the year 1870, has been very highly rated by the New York Times magazine.
Buy Experience