Theme Settings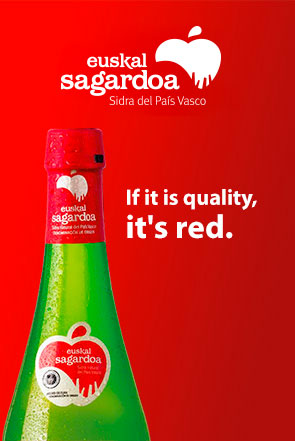 Natural Cider Mizpiradi
Cider is made by fermenting the natural juice of cider apples, and has been made and drunk in the Basque Country for thousands of years.
Natural cider has no added CO2, water or sugars, and is made according to the strict rules governing it. Finding the right mixture of apples together with each cider maker's experience mean there are a wide range of natural ciders for drinkers to enjoy.
A cider that has been improved over the generations and displays the character of its maker, the hand-made product of experience.
Nutritional information and allergens:
Average values per 100 g
Allergens
Energy value
50 kcal/209 KJ
-
Fat
0,0 g
Carbohydrates
6,0 g
Sulfites
Protein
0,0 g
Contains sulfites
Salt
0,2 g
The Mizpiradi cider house is located in the Leizotz neighborhood of Andoain. The Esnaola family entered the Mizpiradi farmhouse with Jon Mikel's great-grandfather and since then, their descendants continue to run both the house and the cider related business. Cider has always been made in the farmhouse. In 2000, however, they renewed it and went from having cattle to becoming professional in the cider sector. Today, it is the young Jon Mikel who leads the cider house with the support of his mother. His father Angel María was the one who made the decision to choose the cider house as a trade and the son follows in the footsteps of the father with great passion, enthusiasm and dedication.