Theme Settings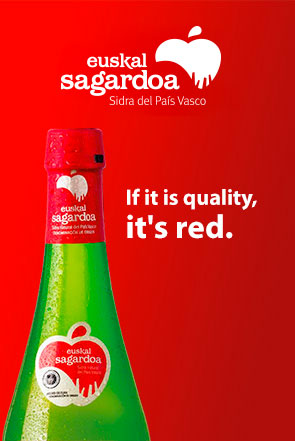 GUIDED TASTING AND MEAL IN A CIDER CELLAR
Adults: from 45€
Children (14-17): 40€
Children (4-13): 20€
Taste our variety of Basque ciders!
INCLUDES:
2 ciders guided tasting
Traditional cider house menu
DURATION:
3 hours
The guided tasting 30 minutes
Taste the natural cider of the Basque Country in a different way. You will taste the different ciders, knowing the characteristics of each one and visiting the best places of each cider house. Besides, you will continue the tasting with the help of the traditional cider house menu.
100% of the amount will be paid at the time of the booking.
Once the payment has been made, we will send you a voucher by email with all the details of the reservation that you can print or carry on your mobile as proof to carry out the activity.
Free cancellation up to 72 hours before the day of the reservation.
CIDER HOUSE TO CHOOSE
Aburuza (Aduna)
Astarbe (Astigarraga)
Bereziartua (Astigarraga)
Gaztañaga (Andoain)
Iparragirre (Hernani)
Mizpiradi (Andoain)
Oiharte (Zerain)
Ola (Irun)
Petritegi (Astigarraga)
Saizar (Usurbil)
* Tell us please the cider house in which you prefer to carry out the experience through the OBSERVATIONS section of the reservation calendar.
Price per person
Adults
1 people

47 €

2 people

47 €

3 people

47 €

4 people

47 €

5 people

47 €

6 people

47 €

7 people

47 €

8 people

47 €

9 - 16 people

47 €

17 - 39 people

46 €

> 40 people

45 €
Data sheet
Tipo de servicio

Shared tour
Buy Experience