Theme Settings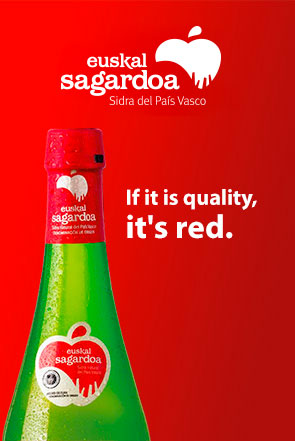 DEGUSTACIÓN GUIADA EN MIZPIRADI
Adults: from 45€
Children (14-17): 40€
Children (4-13): 20€
Mizpiradi, a Basque cider cellar located in a natural paradise.
INCLUDES:
Guided cider tasting
Aperitif with 2 snacks
Traditional menu
DURATION:
Taste the natural cider of the Basque Country in a different way. You will taste the different ciders, knowing the characteristics of each one and visiting the best places of each cider house. Besides, you will continue the tasting with the help of the traditional cider house menu.
100% of the amount will be paid at the time of the booking.
Once the payment has been made, we will send you a voucher by email with all the details of the reservation that you can print or carry on your mobile as proof to carry out the activity.
Free cancellation up to 72 hours before the day of the reservation.
CUSTOMIZED SERVICES
Additional services: More services consult.
Schedule and meeting point: Requested by the client.
Rates: According to the number of people and services selected.
Budget and bookings: info@sagardoa.eus o 943 336 811.
Price per person
Adults
1 people

47 €

2 people

47 €

3 people

47 €

4 people

47 €

5 people

47 €

6 people

47 €

7 people

47 €

8 people

47 €

9 - 16 people

47 €

17 - 39 people

46 €

> 40 people

45 €
The Mizpiradi cider house is located in the Leizotz neighborhood of Andoain. The Esnaola family entered the Mizpiradi farmhouse with Jon Mikel's great-grandfather and since then, their descendants continue to run both the house and the cider related business. Cider has always been made in the farmhouse. In 2000, however, they renewed it and went from having cattle to becoming professional in the cider sector. Today, it is the young Jon Mikel who leads the cider house with the support of his mother. His father Angel María was the one who made the decision to choose the cider house as a trade and the son follows in the footsteps of the father with great passion, enthusiasm and dedication.
Buy Experience