The Oiharte de Zerain cider house presents its ecological Euskal Sagardoa cider "Markesa"
Basque cider made with four varieties, and matured on lees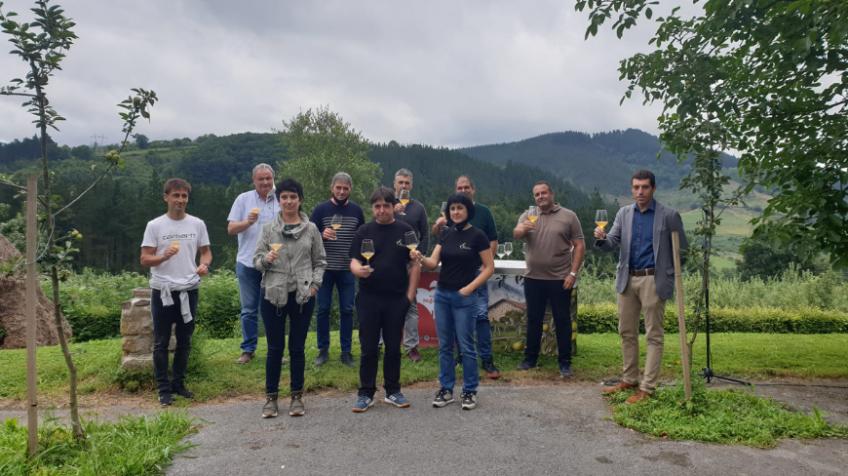 The Oiharte de Zerain Cider House, today presented a new cider with Denomination of Origin Euskal Sagardoa "Markesa". Markesa is an organic cider made with four varieties (Urtebi Haundi and Txiki, Txalaka and Gezamiña) and produced in the apple orchard located in the old estate of the Marquis.  In addition, Markesa has been matured on the lees of the previous vintage, adding volume and complexity to the product.
It is a very gastronomic product, ideal for the menus of the different restaurants, and perfect to be paired with meat and fish, and even cheese for dessert. It's a long drink cider and it is recommended to consume it at 10-12ºC.
The presentation was guided by Haritz Eguren and Maite Retolaza de Oiharte, together with Sumeller Mikel Garaizabal. Representatives of the hospitality sector, retail and distribution, together with representatives of the sector and administrations: JAVIER PLASENCIA (Director of Quality and Food Industries of the Basque Government), MIKEL ARRILLAGA (HAZI Fundazioa Foundation), IÑAKI LABAKA (Gipuzkoa Provincial Council) JON UBIDE (Goitur Technician), UNAI AGIRRE (Coordinator of DO Euskal Sagardoa), AMAIA ZUBELDIA (Technician of Sagardoa Route / Gipuzkoako Sagardogileen Elkartea), OLATZ MITXELENA (Technician of Sagardoa Route / Gipuzkoako Sagardogileen Elkartea)
The presentation was enlivened by the violinist Arantzazu Mujika and the bertsolari Aitor Mendiluze. How to get Markesa: Buying it directly in Oiharte (Zerain) or On-line in the platforms www.sagardoa.eus and www.euskalsagardoa.eus
Relacionado por Etiquetas
Comentarios
Deje su comentario