Theme Settings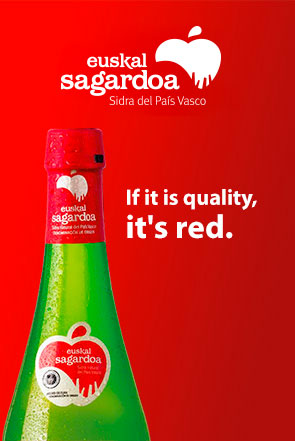 Sagar Krash - Lemon
Sagar Krash - Lemon is a refreshing drink made with apples grown in the Basque Country under the Euskal Sagardoa Designation of Origin (95%) and fruit juice.
ARTISAN AND LOCAL: The new generation of the Otaño family makes this cider in our Astigarraga winery after selecting the best varieties of sour, sweet and bitter cider apples grown in the Basque Country.
REFRESHING: Sagar Krash - Lemon is a light drink with low alcohol content, balanced and with a pleasant carbon content.
MOMENTS: Ideal cider to share at the time of the appetizer, the afterwork or the "afternoon".
CONSUMPTION:
Does not contain gluten.
Suitable for vegan diet.
Vol. 4.5%
Consume cold between 5 ºC and 7 ºC.
Nutritional information and allergens:
Average values per 100 g
Allergens
Energy value
50 kcal/209 KJ
-
Fat
0,0 g
Carbohydrates
6,0 g
Sulfites
Protein
0,0 g
Contains sulfites
Salt
0,2 g
RECOMMENDATIONS FOR TASTING BASQUE CIDER
It is recommended to keep the natural cider in a cool place, at about 14-15ºC. At temperatures that are too high or too low, the cider can lose its properties sooner.
To consume the Basque natural cider, it is recommended to cool it in the refrigerator and take it out 5 minutes before consumption. The ideal temperature to taste it is between 10-13ºC.
We open the bottle and to serve the cider, we can use the pourer cork that some bottles have or attach a traditional pourer to it.
We serve the cider at about 15 cm. from the glass, and a little less than the wine glass. We can consume the cider both in a fine and long glass or in a wine glass. The first choice will help us to enjoy a quicker drink, since by pouring it we will have the natural carbon from the cider. In the second one, we will better appreciate the aromas of the product and by serving it at a shorter distance, we will be able to enjoy a more leisurely drink.
BON APPETIT!
Data sheet
T_Producto

Sidra