Theme Settings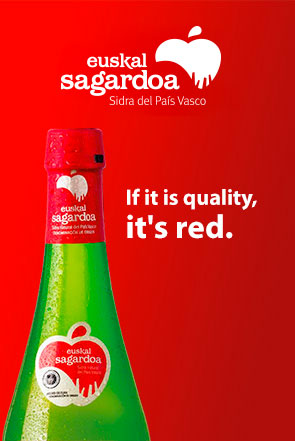 FARM AND CIDER CELLAR WITH TRANSPORT
Adults: 89€
Children (14-17): 55€
Children (4-13): 35€
A unique experience, the Igartubeiti farm cellar!
INCLUDES:
Guided visit in Igartubeiti farmhouse
Tasting of apple juice
Guided tour and cider tasting in a cider house
Traditional cider house menu
Tour guide et transportation included
DURATION:
MEETING POINT:
C/Bengoetxea, 2. Donostia-San Sebastián
Live the experience of making cider according to 500 years ago traditional technique. Igartubeiti was built in the mid-16th century and is an excellent representative of the golden age of the Basque farmhouse. It has a well-preserved original wooden structure and a wooden cider pressing machine inside. The "Week of the Cider" is celebrated during the month of October and it is a great opportunity to go see how the apple was pressed and how the cider was made. You will taste a delicious apple juice made in the moment. Later, we will visit a cider house and explain how cider is made today. Finally, you will taste natural Basque cider with a traditional cider house menu.
100% of the amount will be paid at the time of the booking.
Once the payment has been made, we will send you a voucher by email with all the details of the reservation that you can print or carry on your mobile as proof to carry out the activity.
Free cancellation up to 72 hours before the day of the reservation.
CIDER HOUSE TO CHOOSE
Aburuza (Aduna)
Altzueta (Hernani)
Astarbe (Astigarraga)
Bereziartua (Astigarraga)
Gartziategi (Astigarraga)
Gaztañaga (Andoain)
Iparragirre (Hernani)
Mizpiradi (Andoain)
Oiharte (Zerain)
Ola (Irun)
Petritegi (Astigarraga)
Saizar (Usurbil)
* Tell us please the cider house in which you prefer to carry out the experience through the OBSERVATIONS section of the reservation calendar.
Data sheet
Transporte

Si

Tipo de servicio

Shared tour
Buy Experience