Theme Settings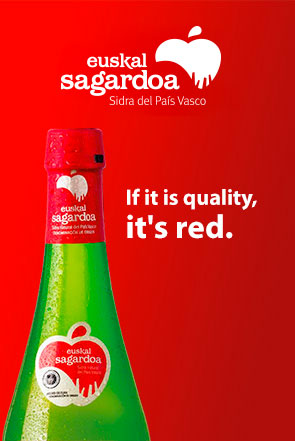 As well as guaranteeing its origin and quality, Euskal Sagardoa organic cider is a product that follows an ecological process from the orchard to the barrel.
Nutritional information and allergens:
Average values per 100 g
Allergens
Energy value
50 kcal/209 KJ
-
Fat
0,0 g
Carbohydrates
6,0 g
Sulfites
Protein
0,0 g
Contains sulfites
Salt
0,2 g
Aitor and Iratxe come from a family that has opted for a peaceful and sustainable life. The first step that Aitor took was to plant apple trees on the land of the farmhouse, with the help and support of his parents. Once the apple trees were planted, and tempted by the world of cider, he took his first steps in the production of this traditional drink. Since then, Ekain's commitment has been to produce organic cider with the Euskal Sagardoa denomination of origin. This couple, in love with their customs and way of life, will open the doors of their house to show us the apple orchard, the production area and, of course, to offer us their organic cider. A wonderful stop to experience the Slow Life philosophy.
BASQUE CIDER D.O., 100% local apple!
High-quality natural cider made from 100% native apples. A cider made from Basque apples, using locally-created varieties that have been improved and nurtured over thousands of years. As well as using local produce, the basis of the Euskal Sagardoa designation of origin is quality: all ciders bearing this certificate must undergo exhaustive physical-chemical analytical tests and tastings.
High-quality natural cider made from 100% native apples, with the confidence that comes from its origins and know-how. A commitment to the future for the industry.