Theme Settings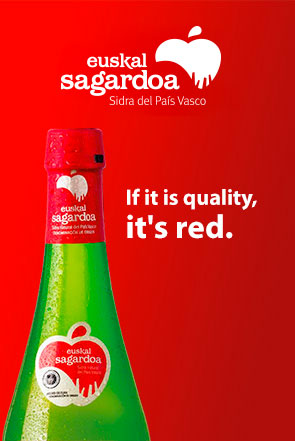 BASQUE CIDER AND RIOJA WINE TOUR
Adults: from 212€
Children (14-17): 168€
Children (4-13): 118€
Valdemar winery has a family history of more than 130 years that begins on the land, in the vineyard. 
INCLUDES:
Guided visit and tasting in the winery
Guided visit and tasting in a cider house
Guided visit in Laguardia
Traditional cider house menu
Transportation and tour guide services included
DURATION:
Bodegas Valdemar is a family passion, run by Jesús and Ana Martinez, the fourth generation of the Martinez Bujanda family. Generation after generation they have been able to pass on their love for the land, their passion for great wines and their pioneering character. Today, they have international recognition thanks to never stop learning and innovating to take the art of winemaking beyond their borders. We will visit different areas of the winery where we will have the opportunity to learn how their wines are made and taste them. Once we have finished our visit to Bodegas Valdemar, we will go to one of the cider houses, where we will meet the family that runs it, as well as take a tour of the apple orchard and the cider production areas. Once we are in the cellar, we will taste the cider that the family makes with such care from the kupelas. To round off the visit, we will have the opportunity to enjoy the traditional cider house menu: homemade pintxo, cod omelette, fried cod, cutlet and Idiazabal cheese with walnuts and homemade quince jelly.
100% of the amount will be paid at the time of the booking.
Once the payment has been made, we will send you a voucher by email with all the details of the reservation that you can print or carry on your mobile as proof to carry out the activity.
Free cancellation up to 72 hours before the day of the reservation.
CIDER HOUSE TO CHOOSE
Aburuza (Aduna)
Gaztañaga (Andoain)
Iparragirre (Hernani)
Mizpiradi (Andoain)
Oiharte (Zerain)
Ola (Irun)
Petritegi (Astigarraga)
Saizar (Usurbil)
* Tell us please the cider house in which you prefer to carry out the experience through the OBSERVATIONS section of the reservation calendar.
Price per person
Adults
1 people

712 €

2 people

431 €

3 people

337 €

4 people

290 €

5 people

262 €

6 people

243 €

7 people

230 €

8 people

220 €

9 - 16 people

218 €

17 - 39 people

215 €

> 40 people

212 €
Data sheet
Transporte

Si

Tipo de servicio

Private tour
Buy Experience