Theme Settings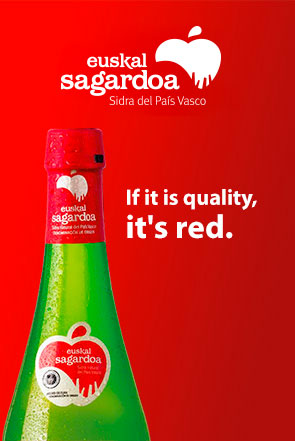 Guided visit and lunch at Gaztañaga Cider House
Adults: from 51€
Children (14-17): 42€
Children (4-13): 22€
Gaztañaga cider house, an authentic pleasure near San Sebastián!
INCLUDED:
Guided tour and tasting in the cider cellar
Home-made aperitif
Traditional menu
DURATION:
The Gaztañaga Cider House is located in Andoain, with both easy access by road and located in a natural, elegant and pleasant environment that offers a panoramic view of Andoain. In this guided tour we will learn about the hard work of Jose Angel Gaztañaga, Mari Angeles Garmendia and their son Axier. The visit will begin in front of the farm, after a little introduction about the families and the farm's history; we will visit the apple orchard, the elaboration area and the cellar. During the visit we will taste different ciders both from the bottle and directly from the barrels. We will finish in the main dining room with a great homemade pintxo and the traditional cider house menu: a pintxo of chorizo, cod omelette, fried cod with peppers and T-bone steak; as a dessert we'll have Idiazabal cheese and tejas and cigarrillos from Tolosa.
We will meet at the Gaztañaga cider house in Andoain for a guided tour. If the weather is suitable, the tour will begin in the apple orchard. The details of each cider will be mentioned and the history of the family and the farm will be discussed. Finally, there will also be the opportunity to taste a traditional cider menu.
Traditional menu
Cod omelet with Eusko Label eggs
Fried cod with peppers
Grilled T-bone steak
Cheese with quince jelly and walnuts
Bread and cider
Schedule: From January to November. Tuesday, Thursday and Saturday 12:30 pm.
Language: Basque, Spanish, English and French.
Other times and languages contact: info@sagardoa.eus
Cider House: Gaztañaga (Andoain)
100% of the VISIT must be paid at the time of booking. Lunch must be paid at the cider house.
• Once the payment has been made, we will send you a voucher by email with all the details of the reservation that you can print or carry on your mobile as proof to carry out the activity.
Free cancellation up to 72 hours before the day of the reservation.
CUSTOMIZED SERVICES
Additional services: More services consult.
Schedule and meeting point: Requested by the client.
Rates: According to the number of people and services selected.
Budget and bookings: info@sagardoa.eus o 943 336 811.
Price per person
Adults
1 people

53 €

2 people

53 €

3 people

53 €

4 people

53 €

5 people

53 €

6 people

53 €

7 people

53 €

8 people

53 €

9 - 16 people

53 €

17 - 39 people

52 €

> 40 people

51 €
The Gaztañaga cider house opened its doors in 1990. Until then they only made cider for their own consumption. They made a significant investment in latest technology to improve the quality of their natural cider.
Buy Experience