Basque Country Popular Cider Championship
The grand final of the IV Basque Country Popular Cider Championship will be in Usurbil on Saturday night, 29th September.
Among the diner will be decided the Cider House winner of the Popular Cider Championship 2018.
The final will be on Saturday, September 29, at the Usurbil pelota court at 20:00 at night; and tickets can be purchased at the Cider Association of Gipuzkoa and Usurbil: Artzabal, Txiriboga, Bordatxo, Alkartasuna and Astiazaran until September 28.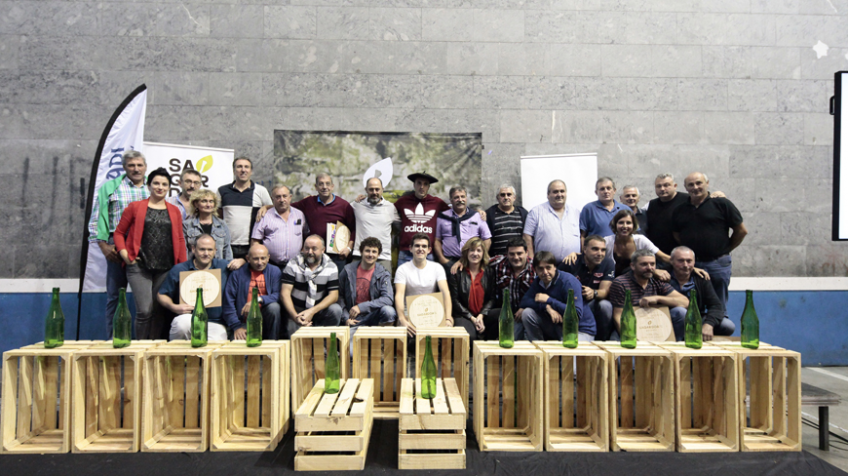 Organized by Sagardoa Route - Cider Association of Gipuzkoa, the fourth edition of the Popular Contest of Cider of Euskal Herria is held. This contest has 4 semifinals and one final. After the four semifinals will be decided which are the ciders that will be tasted by the diners in the grand final. Those who want to taste and give their opinion about these ciders while they enjoy the dinner will be those who form the "popular jury". They will have to buy the tickets in the Association of Sidrerías of Gipuzkoa (943 336 811 or info@sagardoa.eus); or in the usual places of Usurbil: Alkartasuna, Artzabal, Bordatxo, Txiriboga and Astiazaran.
The semifinals have been in Beasain, Goizueta, Oñati and Urnieta; and the final will be in Usurbil. The tasting will be done blindly, since diners will not know the name of the cider they taste. After the final the names of the first 12 finalists will be announced. The first three in order of winners and the remaining nine in alphabetical order. In this edition they will participate in the IV. Popular Cider Competition 41 cider houses in 18 different municipalities of Euskal Herria.
What does it mean to be a "popular jury"?
The diners who sit down to dinner will taste the ciders that little by little they are going out to the table. The guests will score according to their tastes and sensations of 5-10 the 12 cider that they will taste in the final. Therefore, if you like to eat well and taste different ciders, THIS IS YOUR CONTEST!
Recovering old customs
This is the fourth edition of the popular contest. Four years ago the Association of cider houses of Gipuzkoa recovered this tradition with great enthusiasm. In the past several contests of this type have been held, since 1967 the Cider Association of that time organized several Popular Contests with the collaboration of other municipalities. The 2015 contest was the first stone in the recovery of this beautiful event, to continue shaping and adapting the system to reach today a contest in which each year new municipalities and societies collaborate.
Dinner with local products km.0
The final dinner will be based on quality local products, thanks to the collaboration maintained by the Natural Cider Association of Gipuzkoa, Basatxerri and Lurlan. Diners can taste the dishes that best match cider!
Relacionado por Etiquetas
Comentarios
Deje su comentario