Euskal Sagardoa cider from Oiharte in a can
Euskal Sagardoa cider from Oiharte in a can: Innovative format that aims at consumer comfort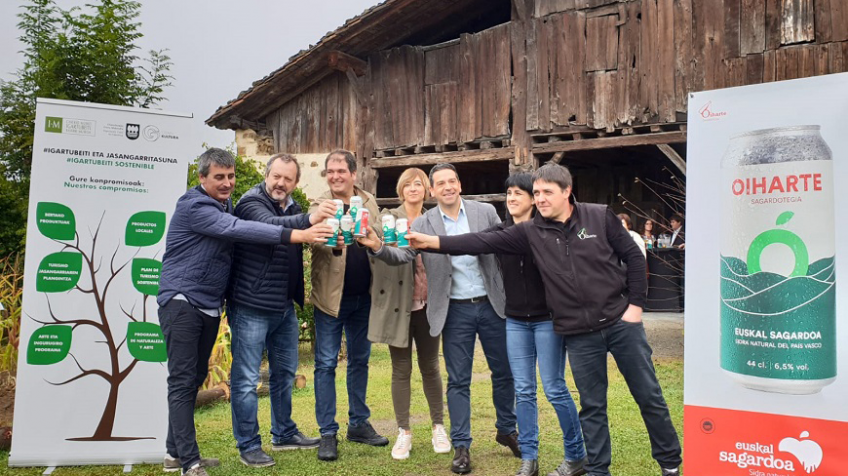 Haritz Eguren and Maite Retolaza are the owners of the Oiharte Cider House. They have presented a new format for Basque cider taking into account the trends and innovative lines that the sector is betting on. It is the first time in history that the Basque Country's natural cider, Euskal Sagardoa, can be consumed in a can. The first canned Basque cider will be Euskal Sagardoa, made 100% with native apple, with the certification and approval offered by the Denomination of Origin. The couple is excited about the step they have taken: "the sector needs new options and the consumer needs comfort," says Maite Retolaza.
The can will offer the consumer an easy way to taste a quality cider, without having to remove the cork, with a simple click. Apart from this, as it is a smaller format than the bottle, it is a good option for the customer who wants to drink less at a certain time. Expand the possibilities for both consumers and hoteliers.
Both Maite and Haritz have stated that it has been essential for them that the first cider to be produced in a can is Euskal Sagardoa: "For us it was very interesting to start making the connection between the quality of the product and the ease of consumption. The bet of our house is clear: The Denomination of Origin Euskal Sagardoa ".
The project carried out by the Oiharte cider house is a pilot project, and time will show you the possibilities offered by this format. The Oiharte de Zerain Cider House has chosen the Igartubeiti Farmhouse-Museum to present this new format, thus uniting the temple of cider production from the 16th century with the latest in innovation from the 21st century. In the Igartubeiti farmhouse museum you can taste and live a complete cider experience. Entering Igartubeiti is to discover the culture, tradition and social value of cider in a unique 16th century farmhouse. From the hand of the family that inhabited it, the visitor discovers the ways of life of the time thanks to multimedia resources. Through its temporary exhibitions, Igartubeiti invites you to reflect on the relationships between contemporary art and nature.
And consumption from the can, how do we do it?
As each consumer prefers. It can be drunk directly from it or served in a glass or glass to taste it in another way. Serving from the can is convenient and easy.
Can: common format for drinks but innovative for cider
"We imagined an excursion to the mountains, with friends or family. The glass bottle, the corkscrew… they are heavy after all. The can gives us new, more comfortable options to consume Basque cider wherever and however we want ".
The sale of the product for now will be direct, from home, but the Oiharte cider house is drawing up the plan for the sale through distributors and organized distribution.
Relacionado por Etiquetas
Comentarios
Deje su comentario