Sagardo Apurua 2018
"Sagardo Apurua", the reconstruction of an old cider cellar farmhouse in the center of Donostia. A historical recreation of a cider house with typical Basque farm aesthetics in which the ambience and appearance of the former cider houses and Basque farms in our city are staged. Donostia has been the capital of cider for many centuries: the Old Town of Donostia had more than 100 cider houses. The term "Sagardo Apurua" is an old concept that was used to invite people to taste the new cider in the same cider houses before the begining of the new season.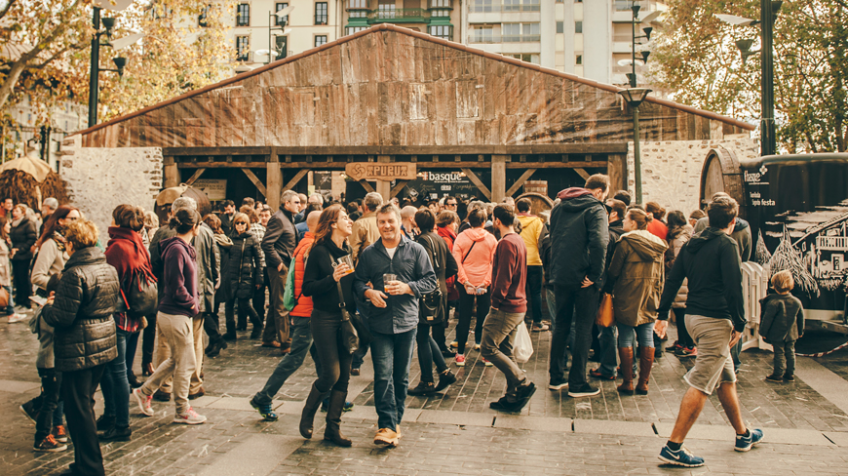 The objective of this "SAGARDO APURUA" is to explain and make to everyone who approaches enjoy the culture of cider, marrying and combining the tradition and the present of cider. For this, we have the collaboration of several agents that make possible the wide range of activities in this fourth edition. SAGARDOA ROUTE - CIDER HOUSES ASSOCIATION OF GIPUZKOA has organized a 4 day event in its farmhouse / ciderhouse, "SAGARDO APURUA". The event will be at the Boulevard of San Sebastian, next to the City Hall on 6th, 7th, 8th and 9th December. Then, you can taste the different ciders, tastings and pairings, the pintxos prepared by local chefs; enjoy bertsos, traditional music and dance, cocktail contest, the San Juan Galleon (Albaola), Gastromuseums hand workshops, rural sport challenges, food pairing of the seven territories and all the products offered by the Sagardoa Route cider .
SCHEDULE
Thursday, 6th of december
11.00 "Urumea, the cider river" Arriving of the new cider and farm products to San Sebastian
11.00 Presentation of the products with the "bersolaris" Aitor Mendiluze y Agin Laburu
11.15 Transportation of the products to the Boulevard
12.00 Inauguration of the Farm Sagardo Apurua
18.00 Tasting of roasted pork
19.30 Guided tasting of  "Euskal sagardoa, DO"
Friday, 7th of december
11.30 V. Sagardo Apurua "Pintxo" Competition
12.00 Popular "pintxo"competition
12.30 Awarding event
18:00 Cider cocktail competition
19:30 Cider tasting with the bersolaris
12:00 LIVE NAVAL CARPENTRY EXHIBITION: using a wooden winch, Abaola´s boatbuilders will make pulleys for the San Juan whaleship. Do you want to see more? Albaola The Sea Factory of the Basques in Pasaia is open 10-14 / 15-18 +INFO www.albaola.com
Saturday, 8th of december
10.30 Presentation of the new crop together with the 7 territories
11:00 Workshops for children guided by the network of enogastronomical museums.
14:30 GUIDED LUNCH KM 0: Lunch made by local products combined by the cider or derivates from the 7 territories.
18:00 Romería with Estanga brothers.
Sunday, 9th of december
12.00 Rural sport exhibition
12.45 Guided cider tasting and special workshop
13.30 Guided cider tasting and special workshop
14.15 Guided cider tasting and special workshop
DESCARGAR PROGRAMA DE LA CARGA EN ASTIGARRAGA
En la misma categoría
Relacionado por Etiquetas
Comentarios
Deje su comentario