Sagardo Apurua 2019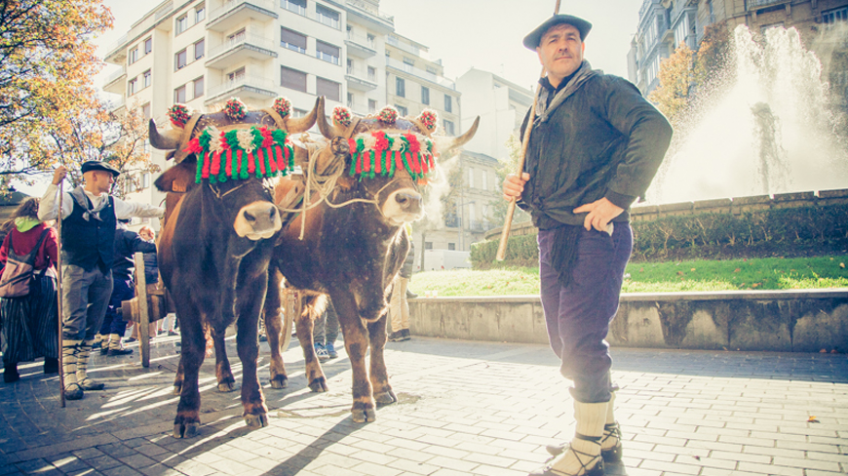 BUY TICKET FOR GUIDED TASTINGS

-->
The cider: the product that unites us
Sagardoa Route, organizer of the event and representative of the Natural Cider Association of Gipuzkoa, has organized the Sagardo Apurua for people. For cider lovers and for those who do not know it, for those who recognize and appreciate the product and those who have not yet tasted it. Therefore, and understanding the wide range of products that today make the cider houses, the Sagardo Apurua will be a meeting for all of them: for natural Basque cider and its derivatives, and anyone who wants to enjoy this product and the activities that are propose.
The recreation of the cider-house in the middle of the Boulevard, will be an authentic reconstruction of the hamlet-house Igartubeiti. Once we cross the stone walls of the hamlet we will enter a diaphanous space, mix of times and historical tour of our exciting product, Basque cider. It will merge the decades of history that we can taste in each shot of cider.
THE PROGRAM

Friday, 6th December

11:30 h.: Arrival and download of the new cider and farmhouse products to the Paseo de Francia

11:30 h.: Intervention of the bertsolaris Agin Laburu and Aitor Mendiluze relating the history and contextualization of the event
11:45 h.: Transport of the new cider and the products of hamlet to Sagardo Apurua.
12:30 h.: Inaugural event of Sagardo Apurua 2019 – HIKA TEATROA presents its new work SAGAR HARAGIZ

18:00 h.: Tasting of roast pork (until it is over)

19:00 h.: Guided tasting workshop. (3 ciders and 3 pintxos)

20:00 h.: Guided tasting workshop. (3 ciders and 3 pintxos)
Saturday, 7th December

10:30 h.: Presentation of the new 2019 harvest by the hand of the 7 territories.

13:00 h.: Guided tasting workshop. (3 ciders and 3 pintxos)

19:00 h.: Bertso-musical tasting by Aitor Mendiluze, Unai Agirre and Imanol Camio.

20:00 h.: Miren Narbaiza in concert presenting 'MICE'
Sunday, 8th  December

11:30 h.: Workshops of the network of enogastronomy museums: Sagardoetxea, Igartubeiti, Gaztaren Interpretazio Zentroa, Txakolingunea and Gatz Museoa. Each will offer a 40-minute workshop until 15:00, in this corresponding order.

11:30 h.: Sergio Nguema - Masterclass of urban dance.

13:15 h.: Sergio Nguema - Urban dance passages

13:30 h.: Sergio Nguema in concert – tasting of natural apple must
14:00 h.: DJ session with Juan Di Lago as the closing of the event
Monday, 9th December
13:30 h.: Reception

14:00 h.: Lunch: Local products will be paired with Euskal Sagardoa DOP ciders, with the collaboration of Diametro 200 and the Luis Irizar school.
18:00-18:45 h.: International ciders by Dani Corman.
19:00-21:00 h.: Show Room Euskal Sagardoa.
*You can taste different types of cheeses from the Basque Country, as well as meats with Eusko Label in different roasting systems, by the hand of Txomin Parrilla.
En la misma categoría
Relacionado por Etiquetas
Comentarios
Deje su comentario