Summer activities in Petritegi
The Petritegi cider winery in Astigarraga has prepared a complete program of cultural, sports and nature activities for you to enjoy with your loved ones from close plans, full of flavor and tradition.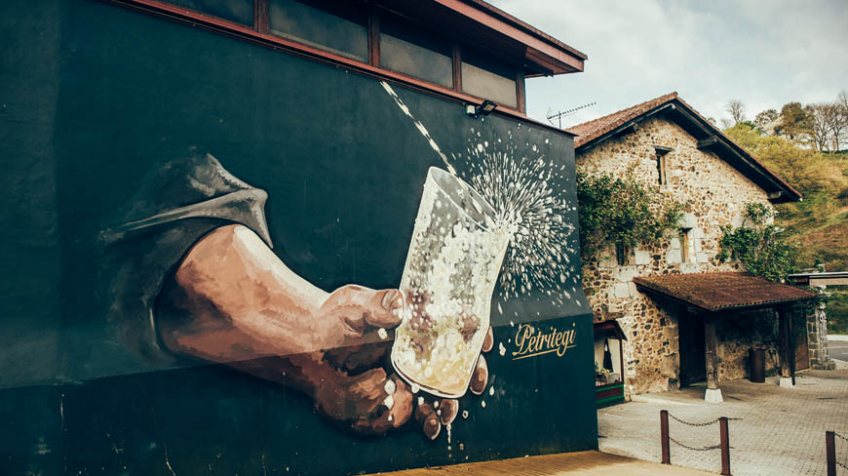 1.Musical dinner-pairing with bertsos "Sagardoak elkartzen gaitu".
On Monday July 27 you can enjoy a very special activity: a dinner-pairing where the bertsos and music will have a relevant role. We have prepared five wishes with the best from our cider house menu and from the Petri Etxea offer, to be paired with five ciders. Each pairing will be commented by the bertsolaris Aitor Mendiluze and Iker Zubeldia and enlivened by the music of Imanol Kamio. The menu consists of cooked chorizo, peppers stuffed with cod, cod in sauce, grilled cutlet and homemade apple pie.
Price of the activity: € 40 (coffee included).
Minimum group: 4 people. Time: 20:30 in Petritegi.
They organize:Sagardoa Route, Euskal Sagardoa, Bertsozale Elkartea, Musika Bulegoa and Petritegi.
Language: Basque.
2. Birding Petritegi.
For July 29 and September 2 we propose a plan to enjoy our environment in a different way: a getaway where you can meet the birds and bats that inhabit our apple orchards. From the hand of the experts of the ornithology section of Aranzadi you will learn what is biological pest control, how to distinguish the species of birds for their song, you will visit the nest boxes, and perhaps, discover some surprise in the bat shelters. To round off the day, you will taste a delicious cider house menu in Petritegi.
Activity price: € 39.50 (adults with menu no. 6) and € 23.50 (children under 14 years old with children's menu No. 
Minimum group: 2 people. Departures: July 29 and September 2.
Time: 12:30 in Petritegi. Organized by: Aranzadi and Petritegi Science Society.
Languages: Basque and Spanish.
3. Navigate the Urumea by canoe.
One of the most unknown natural environments for the people of Gipuzkoa continues to be the section under the Urumea river. Petritegi proposes you to discover the most secret places of the "river of the cider ", the waterway that has linked Astigarraga and San Sebastián since ancient times. A comfortable Canoe ride where you can learn about the history, the hamlets and the fauna of the river with Unai Elizasu. To recharge your batteries, we have prepared a new menu for you at Petritegi.
Price activity: € 43.50 (adults with menu no. 6) and € 27.
Minimum group: 4 people. Minimum age: 7 years. Departures: every Friday, 11:00 at Loiola (c / Sierra de Aralar, 44).
Languages: Basque and Spanish.
Organized by: Sagardoa Route, Arrauning and Petritegi.
4. Guided tours of the winery.
Petritegi offers you the best way to get to know Astigarraga's cider culture and gastronomy Basque: our experiences combine guided visits to the winery and the tasting of the cider house. Learn about the secrets of this thousand-year-old tradition in Gipuzkoa, the natural wealth and culture of apple cultivation and the new horizons of Basque cider. The expert guides Petritegi will accompany you through the apple orchard and the Petritegi winery, a farmhouse linked to cider since 1526, in a natural environment just 7 km from the center of Donostia-San Sebastián.
Prices of the activity: Between € 14 and € 39, depending on the type of visit.
Minimum groups: between 2 and 12 people, according to type of visit. Hours: according to type of visit and language.
Languages: Basque, Spanish, English and French.
Organized by: Petritegi.
More information at www.petritegi.com
Reservations at 943457188 ​​and reservas@petritegi.com
En la misma categoría
Relacionado por Etiquetas
Comentarios
Deje su comentario