Cider houses in Gipuzkoa
The cider houses are great gastronomic attractions that allow you to taste the new cider each year from different barrels, enjoy a good meal and at the same time support a local producer. Thousands of visitors come every year to taste Basque Cider together with a traditional cider house menu.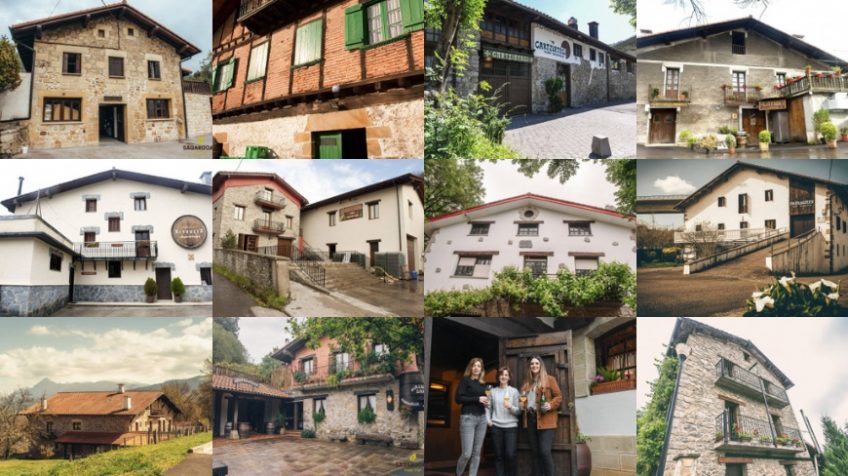 In the Basque Country there is a great variety of cider houses, for all tastes; there are some with large dining rooms and large wine cellars, other more intimate cider houses with smaller spaces, wineries with Euskal Sagardoa Denomination of Origin cider, some surrounded by their beautiful apple orchard, others are located in the very center of town, there are also some that offer guided visits...
All of them have numerous kupelas made of wood and stainless steel to delight lovers of Basque Cider and traditions. The cider houses not only offer the traditional cider house menu, but they have also adapted to our times and we can enjoy vegan, vegetarian and celiac menus...
There are many groups from different provinces that come to the Cider Houses in Gipuzkoa for a company celebration, a birthday, a retirement, a gathering of friends...
The opening of the Txotx is a special moment every year in the cider houses where a great celebration is held and the new cider recently made is tasted directly from the kupelas. All this accompanied by the traditional dishes that make up the traditional cider house menu: chorizo, cod omelette, fried cod with green peppers, grilled T-bone steak and for dessert cheese with walnuts and apple quince.
The Txotx season runs from January to April, and in the Basque Country we know how important it is to maintain the traditions and culture of the territory, which is why it is important not to miss the Txotx event. Although today, many of the cider houses open their doors throughout the year.
Basque Cider is a natural product made for more than 500 years in the old winery farmhouses (tolare) of Guipúzcoa. These old wineries evolved into what are today cider houses. Cider is still produced in the traditional way, maintaining the customs, but making use of new innovative methods.
In the different cider houses you will find unique bottles, where the flavor of the bottles of one cider house has nothing to do with those of another cider house, each sip is a unique moment.
In Gipuzkoa you will be able to find a natural cider production with innovation, improving the traditional product, where we will not only find natural cider, but organic cider, sparkling natural cider, apple must... A tradition that revolves around the apple, a tradition that remains and takes care of itself over time.
CIDER HOUSES IN ADUNA: Aburuza and Zabala
CIDER HOUSES IN AIA: Izeta and Satxota 
CIDER HOUSES IN ALTZAGA: Olagi
CIDER HOUSES IN ANDOAIN: Gaztañaga and Mizpiradi
CIDER HOUSES IN ASTEASU: Sarasola
CIDER HOUSES IN ASTIGARRAGA: Alorrenea, Artola, Astarbe, Bereziartua, Etxeberria, Gurutzeta, Ipintza, Irigoien-Herrero, Larrarte, Oialume Zar, Oiarbide, Petritegi, Rezola and Zapiain 
CIDER HOUSES IN ATAUN: Urbitarte
CIDER HOUSES IN AZPEITIA: Añota
CIDER HOUSES IN DONOSTIA: Araeta, Astiazaran, Barkaiztegi, Calonge, Gartziategi and Lizeaga
CIDER HOUSES IN ELGOIBAR: Lizasagar
CIDER HOUSES IN ERRENTERIA: Egi-Luze
CIDER HOUSES IN ERREZIL: Iruekhi
CIDER HOUSES IN HERNANI: Akarregi, Alberro, Altzueta, Elorrabi, Goiko-Lastaola, Iparragirre, Itxas-buru, Larre-gain, Olaizola, Otsua-enea, Rufino and Zelaia.
CIDER HOUSES IN ITZIAR: Txindurriturri
CIDER HOUSES IN LASARTE: Otegi
CIDER HOUSES IN LEGORRETA: Begiristain
CIDER HOUSES IN LEZO: Ageri
CIDER HOUSES IN LIZARTZA: Goikoetxea
CIDER HOUSES IN OIARTZUN: Baleio and Ordozelai
CIDER HOUSES IN ORDIZIA: Tximista
CIDER HOUSES IN TOLOSA: Eguzkitza and Isastegi 
CIDER HOUSES IN URNIETA: Altuna, Elutxeta, Eula, Oianume and Setien 
CIDER HOUSES IN USURBIL: Aialde-Berri, Aginaga, Arratzain, Saizar and Urdaira 
CIDER HOUSES IN ZARAUTZ: Arizia
CIDER HOUSES IN ZERAIN: Oiharte
CIDER HOUSES IN ZESTOA: Ekain
Relacionado por Etiquetas
Comentarios
Deje su comentario