Theme Settings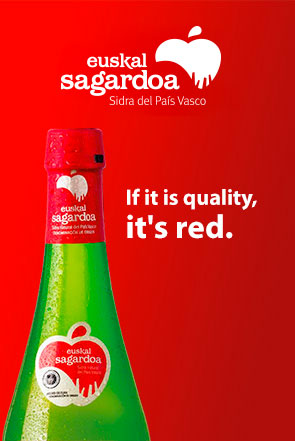 Apple Juice Mizpiradi
Pasteurised apple juice, natural juice made with no added sugar.
This is an alcohol-free product.
The Mizpiradi cider house is located in the Leizotz neighborhood of Andoain. The Esnaola family entered the Mizpiradi farmhouse with Jon Mikel's great-grandfather and since then, their descendants continue to run both the house and the cider related business. Cider has always been made in the farmhouse. In 2000, however, they renewed it and went from having cattle to becoming professional in the cider sector. Today, it is the young Jon Mikel who leads the cider house with the support of his mother. His father Angel María was the one who made the decision to choose the cider house as a trade and the son follows in the footsteps of the father with great passion, enthusiasm and dedication.
RECOMMENDATIONS FOR TASTING BASQUE CIDER
It is recommended to keep the natural cider in a cool place, at about 14-15ºC. At temperatures that are too high or too low, the cider can lose its properties sooner.
To consume the Basque natural cider, it is recommended to cool it in the refrigerator and take it out 5 minutes before consumption. The ideal temperature to taste it is between 10-13ºC.
We open the bottle and to serve the cider, we can use the pourer cork that some bottles have or attach a traditional pourer to it.
We serve the cider at about 15 cm. from the glass, and a little less than the wine glass. We can consume the cider both in a fine and long glass or in a wine glass. The first choice will help us to enjoy a quicker drink, since by pouring it we will have the natural carbon from the cider. In the second one, we will better appreciate the aromas of the product and by serving it at a shorter distance, we will be able to enjoy a more leisurely drink.
BON APPETIT!