Theme Settings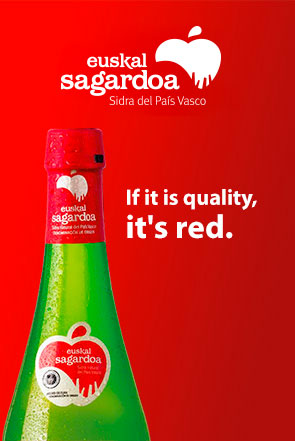 Natural Cider Oialume Zar
Cider is made by fermenting the natural juice of cider apples, and has been made and drunk in the Basque Country for thousands of years. 
Natural cider has no added CO2, water or sugars, and is made according to the strict rules governing it. Finding the right mixture of apples together with each cider maker's experience mean there are a wide range of natural ciders for drinkers to enjoy.
A cider that has been improved over the generations and displays the character of its maker, the hand-made product of experience.
Nutritional information and allergens:
Average values per 100 g
Allergens
Energy value
50 kcal/209 KJ
-
Fat
0,0 g
Carbohydrates
6,0 g
Sulfites
Protein
0,0 g
-
Salt
0,2 g
Cider house located on both sides of the stream that connects Astigarraga and Hernani. Two towns with a great cider tradition united in the same cider house. It's a family that use high quality raw materials, and who have innovated without forgetting the cider culture and traditions. Axentxio Barrenetxea and Koro Lasarte have worked very hard, and now they hand over Oialume Zar to their son, Ander Barrenetxea, along with his sister Eztitxu and their beautiful team.
RECOMMENDATIONS FOR TASTING BASQUE CIDER
It is recommended to keep the natural cider in a cool place, at about 14-15ºC. At temperatures that are too high or too low, the cider can lose its properties sooner.
To consume the Basque natural cider, it is recommended to cool it in the refrigerator and take it out 5 minutes before consumption. The ideal temperature to taste it is between 10-13ºC.
We open the bottle and to serve the cider, we can use the pourer cork that some bottles have or attach a traditional pourer to it.
We serve the cider at about 15 cm. from the glass, and a little less than the wine glass. We can consume the cider both in a fine and long glass or in a wine glass. The first choice will help us to enjoy a quicker drink, since by pouring it we will have the natural carbon from the cider. In the second one, we will better appreciate the aromas of the product and by serving it at a shorter distance, we will be able to enjoy a more leisurely drink.
BON APPETIT!